Michael & Ashley Blasingame
Read about how we got started as well as our personal stories below!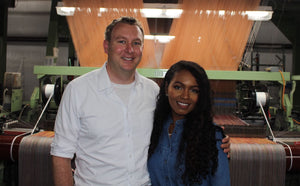 A Brief History
1971 - My family opens their first furniture store in Porterville, California, USA (before I was born 😄)
2003 - We open another furniture store in Visalia, California, where I have my first job selling furniture
2005 - My family begins selling home decor online
2009 - QualityTapestries.com is launched
2022 - Our website gets a complete redesign
We work to keep our tapestry selection fresh, adding new designs each year. We ship worldwide, having served customers in over 50 countries! We strive to offer personal customer service, which has lead to our excellent testimonials and an A+ rating with the Better Business Bureau.
Your satisfaction is very important to us. If you have any questions or concerns, please don't hesitate to contact us. I personally thank you for visiting our online store and we hope to earn your business!
- Michael Blasingame
About
Michael Blasingame
I grew up in Visalia, California. From a young age I loved playing sports with my brother. We also enjoyed playing music; my brother on the guitar and me on the drums. We played in a few bands that would do gigs like car shows, coffee shops and some weddings. At 17 I started working in my family's furniture store. At age 20 I moved to New York City for one year, during which time I enjoyed going to museums like the Metropolitan in my spare time. Thereafter I moved to the central coast of California where I worked in my family's retail stores in San Luis Obispo County. Eventually a friend got me into surfing, during which time I sure enjoyed some amazing sunset surfs and other epic times! In 2013 I moved back to the central valley and married my best friend Ashley! Together we manage Quality Tapestries Inc. And although I think my picture here is a bit pretentious, my wife chose it for this page. 🤷🏼‍♂️ Happy wife, happy life! 😄
About
Ashley Blasingame
I was born in Guyana, a small country in South America sandwiched between Venezuela and Suriname. My dad is East-Indian and my mother is Afro-Caribbean. When I was two we moved to the island of Trinidad in the Caribbean and then later to the nearby island of Grenada. In Grenada I spent my days on the beach drinking coconut water and playing with my cousins. When I was 10 my family and I packed up and moved to California where I've resided for the majority of my life. In high school I was very involved in Drama class and performed in many plays and musicals. To this day singing is still one of my favorite hobbies. I've known Michael for many years but in 2012 sparks flew and a year later we were married!
About
Benji
Although Benji does not technically "work" or do much of anything else aside from sleep and exhale loudly when he's having a ruff day (pun clearly intended), we'd still like to count him in as part of our Quality Tapestries team. 😄 Since 2020 he has served as our rescue pup and gives us good emotional support via cuddles and cuteness which help to keep us going!
About
Our Tapestries
Roughly half of our wall tapestries are woven in North Carolina, USA. The other half are imported, primarily from Belgium, France & Italy! We proudly stand behind each product that we sell, which is why we offer a 30 day return policy as well as a lifetime warranty on every tapestry.
Shop Tapestries Now
About
Our Testimonials
We have received countless testimonials from happy customers! Here is just one recent testimonial:

"Thank you very much, the tapestry arrived before we leave tomorrow and here it is in our apartment in Lake Orta, Italy. It is absolutely ideal and of excellent quality so we could not be happier. Thanks again for your assistance."

- Kate Russell, Lake Orta, Italy
View Testimonials