Custom Woven Tapestries
We can turn your image into a custom woven tapestry. Each custom wall tapestry is finished with a lining and rod pocket unless requested otherwise. We work with individuals, hotels, artists and more. Submit a request today and you could have your own custom tapestry in only a few short weeks!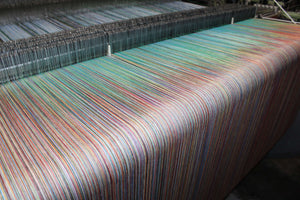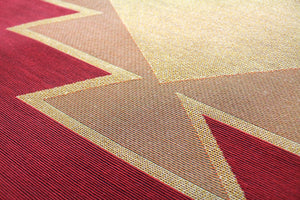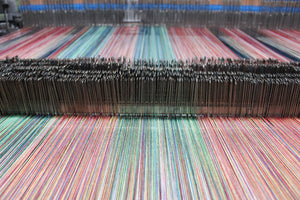 How Can I Get My Own Custom Woven Tapestry?
Prices vary according to size and a few other factors. Typical prices
range from $750 - $2,500 USD. Please request a quote to get your exact price.
Our custom tapestries are approximately 65% cotton & 35% polyester. No wool options are available.

Occasionally we will add a silver or gold lurex thread to a design in which it would look good. These threads give off a nice shimmer. (This does not cost extra but is only added upon special request.)
Our widest loom has an output of 80 inches. The other dimension can be longer. (For instance we can make a tapestry that is 80" x 200".) This is our only size limitation on a single tapestry. However, if you have a larger area that you are looking to cover, we can get creative with multiple tapestries woven and placed side by side, or even possibly sew two pieces together.
Generally speaking, we can weave nearly any image that is not protected by a copyright. If you own the image, or it is public domain, we can weave it. If it is protected by a copyright then a waiver must be signed.
File type: We can weave from, and convert if necessary, nearly any file type. JPEGs are most common.
Resolution: 72 dpi is great for weaving. We can of course weave from higher resolution images. On occasion we can even weave from images that are sent to us in low resolution.
Typical production time is about 4 weeks. On occasion we can rush an order and produce it in as little as 1-2 weeks. We can also expedite shipping if needed.
Our custom tapestries are made in the USA.
Domestic shipping: All quotes include free shipping within the USA and will ship via FedEx Ground unless requested otherwise.
International shipping: We ship globally via FedEx. Your quote will specify if there are any added shipping costs.
Belfast, Maine
Heather Frederick
"This is the type of company we like to do business with - efficient, helpful and very quick to respond. The tapestry arrived when promised and is beyond our highest expectations. It transforms the space we had set aside for it."
Photo Credit: Crow 1 © Meggan Gould
Minden, Ontario, Canada
Mary Anne Barkhouse
"The team at Quality Tapestries were absolutely wonderful to work with. The turnaround time and delivery were quick and seamless, which was greatly appreciated as I was creating new installations for solo exhibitions at public art galleries.  

When I received the finished works it was like opening a gift. The tapestries not only met but exceeded any expectations I had, with vibrant colours and rich textures combined with quality construction. The subsequent feedback that I have had from viewers of the exhibitions has been overwhelmingly positive.

Their prompt and courteous service was greatly appreciated. I can't recommend highly enough the work and products that Quality Tapestries provides."
San Jose, California
Norma Fries
"The show was a huge success! The tapestry sold so quickly. I am thinking of making one for myself. While it was up, I got tremendous feedback on the detail of the tapestry. I had the photo right next to it. You guys do great work!"
Halifax, Novia Scotia, Canada
Mount Saint Vincent University
"I was very pleased with the service and product I received from Quality Tapestries. I found they were very timely in any correspondence, willing to adapt and make customizations, and very conscious of our tight schedule and deadlines."

-Melanie MacIsaac
Glendale, Arizona
Nisha Patel
In conjunction with Super Bowl LVII, Anheuser-Busch rebranded a local hotel in Glendale, AZ in February 2023. Nisha's team at 160/90 commissioned us to make this 15 foot tall custom tapestry for the occasion. Regarding the finished product, Nisha said:

"The piece came out better than we could've imagined and it added a wonderful touch to the hotel. The guests as well as Anheuser-Busch leadership loved the piece (we're actually sending it to their HQ)."
Laramie, Wyoming
Wendy Bredehoft
"As a mixed media artist I was looking for a source that could weave my original artwork into tapestries, providing opportunities to enlarge the work. Quality Tapestries provides that and more. I have been able to revisit older originals in a variety of media, and reconsider them, using the tapestry itself as a new canvas that I embellish with a variety of media (assorted threads and fibers, plastic, found materials, etc.). These become new one-of-a-kind originals, binding traditional techniques with contemporary digital weaving processes. I frame my finished pieces rather than hanging them on tapestry rods. Quality Tapestries has been responsive to my needs as an artist and a pleasure to work with as I explore new possibilities!"